US Politics
The Vision Splendid
The American Promise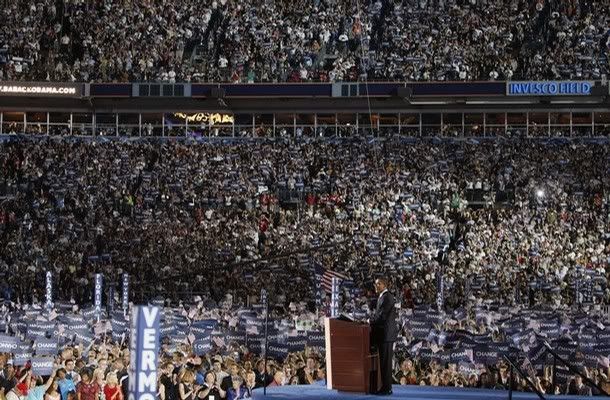 Democratic Party Presidential nomination acceptance address by Senator Barack Obama
Thursday 28th August 2008
Today in Colorado, Senator Barack Obama, beyond even his wildest dreams, succeeded in achieving what would be best described in words typical of Martin Luther King Jnr, in suggesting unequivocally, "He climbed that mountain today". It was especially poignant, on this, the 45th anniversary of Dr King's "I have a Dream" speech from the Washington monument in Washington DC, on August 28th 1963.
Surrounded by the Rocky Mountains and framed within the towering tiers of Invesco Field stadium, a capacity audience of 84,000 totally enraptured by Obama's detailed and inspiring oration, could never in their wildest dreams have imagined, or experienced, a more appropriate setting for their own field of dreams.
Invesco Field, home to the Denver Broncos, a sporting arena more attuned to the frenzied roars of home team fans, felt a new rhythm today, as long held deep emotions brought tears of joy and hope and excitement to hearts, both young and old, reflecting  life experiences and unity in the embrace of one shared dream.
Martin Luther King Jnr delivers the "I have a Dream" speech from the Washington monument, August 28th 1963 .
17 mins 28
Much will be written about the commitments Barack Obama made in his speech today. I thought he was clear, concise and highly focused.  He made sure that people would  understand what an Obama Administration would look like, offer, and how he would go about achieving his policy objectives.
Objectives which covered foreign policy, health care, the energy mix, global warming, the environment, veterans affairs, veteran's care, and the state of the American military. Importantly he set a goal of making the United States independent of foreign oil importation within 10 years. He intends to take America's troops out of Iraq within 16 months and specifically focus on capturing or killing Bin Laden in Afghanistan.
A few excerpts from "The American Promise"
" I've got news for John McCain! We all put our country first ".
" The Republicans are trying to make this a big election about small things ".
" They just don't get it, change comes not from Washington, change comes to Washington ".
" People will keep their guns, but we're not giving AK 47's to criminals ".
" The naysayers never understand that this election is not about me, it's about you, the American people ".
" John McCain needs to understand something that people who serve in the military already know. That is, that those who bled for and served their country, did so, whether they were Republicans or Democrats — Patriotism has no Party".
" John McCain says he would follow Osama Bin Laden to the Gates of Hell.  We know where he is in Pakistan. I will either capture or eliminate him.  John McCain won't even follow Bin Laden to the cave where he lives ".
Senator Barack Obama " The American Promise " 45 mins
In summary, the speech was simply perfect. Bring on the debates!
Go Obama, all the way to 1600 Pennsylvania Avenue
Yes you can!

[signature]